Which Pickup is Right for You?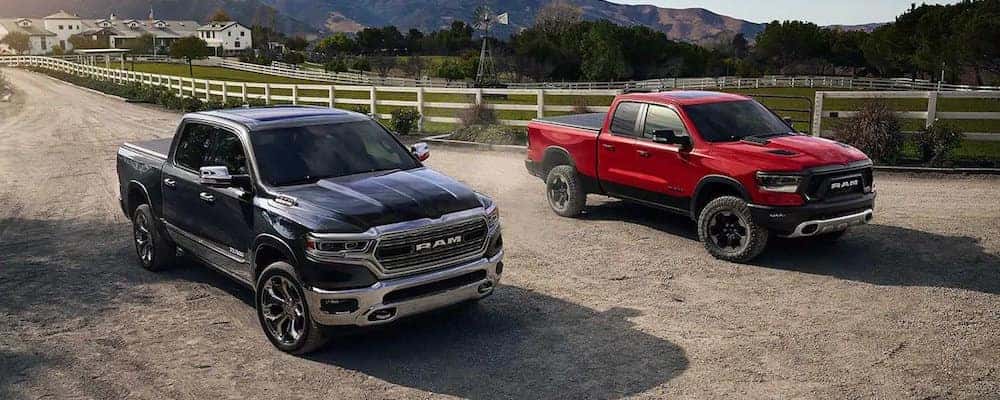 Upgrading with a new pickup can be exciting, but with so many options and configurations to choose from, it can also be a daunting challenge. Thankfully, when you're comparing the RAM 1500 vs. 2500 vs. 3500 near Abilene, things don't have to be this way. We've created a simple RAM truck quiz to help you choose between available full-size, heavy-duty, and super-duty pickup options. If you've been wondering, "which pickup is right for me?" simply answer each question and tally your score at the end!
Performance for the Road Ahead
When you're choosing a new pickup, two of the most important considerations are towing capacity and performance! Answer these questions to find out which of the RAM trucks has the capability you need:
How Much Towing Power Do You Need?
[A] – A maximum towing capacity of 12,750 pounds
[B] – A maximum towing capacity of 17,980 pounds
[C] – A maximum towing capacity of 31,210 pounds
What Kind of Payloads Do You Need to Haul?
[A] – My jobs rarely require more than 2,300 pounds
[B] – I often need to haul around 3,100 pounds
[C] – I need to be able to handle upwards of 6,700 pounds
How Many Engine Options Would You Like?
[A] – Just two, a gas-powered V6 and a gas-powered V8
[B] – Six available I6 and V6 engines, with to access diesel and bi-fuel configurations
[C] – Six available I6 and V6 engines, with three different diesel options
How Much Horsepower and Torque Do You Need?
[A] – 305 hp and 269 lb-ft of torque before upgrades
[B] – 383 hp and 400 lb-ft of torque before upgrades
What's Your Preferred Transmission?
[A] – An 8-speed automatic, with an optional manual mode
[B] – 6-speed automatic and 6-speed manual options
RAM Truck Interior and Exterior Features
Drivers should also consider what they'd like to find in their pickup truck interior! The RAM 1500 starts out with more interior features for passengers, but the 2500 and 3500 offer no-nonsense interiors that may be appreciated by drivers who mostly use their pickup on their Abilene or Eastland job site.
How Many Passengers Do You Need to Seat?
[A] – Up to Six
[B] – No More than Three
Which Interior Features Are Most Important to You?
[A] – USB Ports and Bluetooth Compatibility
[B] – Auto-Dimming Day-Night Rearview Mirror and Partial Floor Console
Do You Often Travel with Children?
[A] – Yes, and I need rear childproof door locks
[B] – No, I only require the basic pickup safety features
What Utility Features Matter Most?
[A] – Keyless Access and Hill Start Assist
[B] – Tow/haul mode select
Tallying Your Score
For each question, the answer [A] represents a preference for the full-size 2019 RAM 1500 vs. 2500 or 3500. For questions with both [B] and [C] options, your selection of either will indicate a preference for the 2018 RAM 2500 or the 2018 RAM 3500, respectively.
If a question only let you choose between [A] and [B], the 2500 and 3500 offer identical features, and you'd be happy with both. If you answered [B] on many of these, make your selection, 2500 or 3500, based on whether or not you answered [C] in any of the three-option questions.
Schedule Your Test Drive at Stanley Chrysler Dodge Jeep Ram Brownwood to Learn More!
Now that you've got a sense of which RAM truck has the most to offer for your daily drives, we're sure that you'll be eager to get behind the wheel. Continue your research by comparing the RAM 1500 to the 2019 Toyota Tacoma or the 2018 Ford F-150, or contact Stanley Chrysler Dodge Jeep Ram Brownwood today to schedule a test drive in any of our new 1500, 2500, or 3500 RAM pickups.
More from Stanley Chrysler Dodge Jeep Ram Brownwood