Jeep and its Service to the Military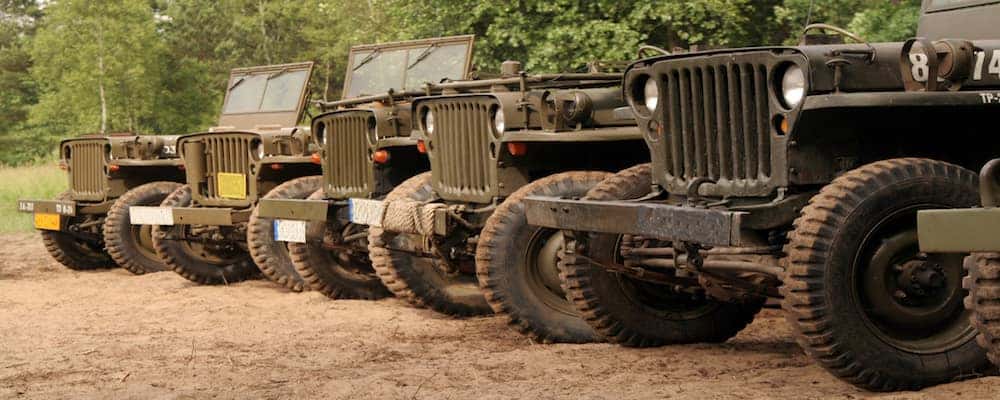 New and loyal Jeep owners know what they're getting when they choose the immersive experience of a Jeep vehicle. The various Jeep models all offer the same thing: a thrilling drive around Abilene and off-road. Since the Jeep Brand has spent many decades refining the overall ride of all its models, learn more on how Jeep's beginnings were born in its service to the military.
Jeep's Military History
At the height of World War II, the United States reached out to a slew of companies to help with the efforts of building a tough, all-wheel drive vehicle that could withstand the trials and tribulations of wartime. Two companies responded to this call, and each were tasked within a short timeframe to build the vehicle that one day would be known as the Jeep.
While one company could only supply the initial blueprints of this all-terrain vehicle, it was up to the Willys-Overland and Ford company to mass manufacture the Jeep for the military.
When the Willys-Overland company couldn't keep up with the demands of the war department, Ford took over all production of the new Jeep military vehicle. The Willys-Overland company made enhancements to the original plans of the rugged SUV, then passed these along to Ford in order to meet the needs of the military as the United States entered into WWII. They called the vehicle the Model GPW.
Jeep Military Model GPW Specifications
The GPW model built by Ford in partnership with Willys-Overland included interesting features that were unheard of at the time for this new style of utility vehicle:
Four-wheel drive
85 lb-ft of torque
Fold down windshield
Flat stamped grille
660 lbs of towing capacity
When you consider what the Jeep Wrangler model can handle off the beaten path today near San Angelo, these features are minute compared to those. When released, however, the Jeep GPW model helped the military branches fulfill their duties with the impressive and light features built into this intriguing new vehicle.
After the War: Civilian Jeep Production
Once World War II ended, production of Jeeps happened worldwide. Other companies manufactured Jeep models, but later, the Jeep Brand consolidated those vehicles. They currently offer the iconic lineup we know today:
Find Your Next Jeep at Stanley Chrysler Dodge Jeep Ram Brownwood
Now that you know all about Jeep's military history and how far it has come, test one for yourself today at Stanley Chrysler Dodge Jeep Ram Brownwood. Learn more about the Jeep brand's history, and when you're ready to start your car buying process, contact us and we'll help find what you're looking for with our great incentives and excellent service.