How to Remove Jeep Wrangler Doors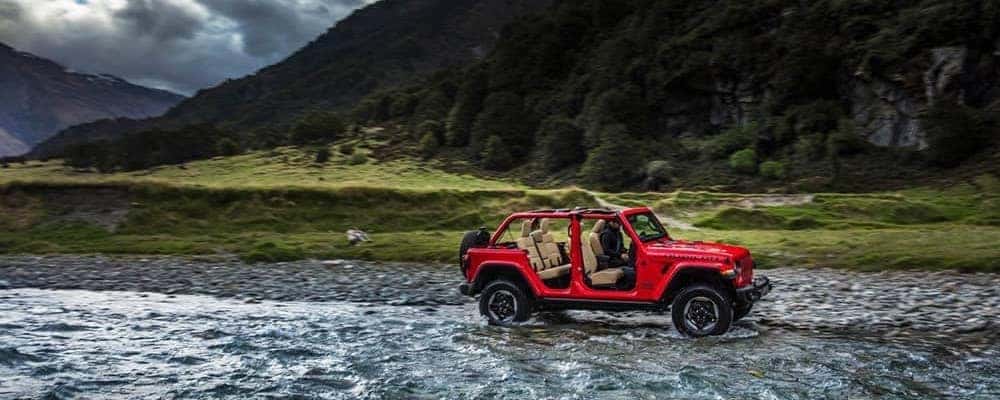 New and used Jeep Wranglers are made for the driver who's looking for a stimulating ride on or off the roads near Eastland. The Wrangler features removable and addable parts to enhance any trip. Learn how to remove Jeep doors on your Wrangler with our comprehensive how-to guide.
Contact Service Service Video Library
How To Take Off Jeep Wrangler Doors
Removal of the doors from your Jeep requires you to bring down the windows first. If your model has windows, lowering them protects the glass from breaking. From there, take the following steps:
Disconnect all cables from power by removing the footwell located by the b-pillar or under the dashboard. This pops off by taking off the clip that attaches it.
Remove the door straps by gently lifting them from their hooks.
Slide out the bolt in between the door hinges, then gently slide the door off and away from the vehicle.
After you've followed the steps, you can enjoy exciting drives without your doors in Brownwood. Be sure to store your doors in a dry, safe place for when you're ready to put the doors back on your Wrangler. Also, keeping your door hinges lubricated after the first removal helps the doors slide off more easily next time you take the doors off your Jeep.
Why Take the Doors off a Jeep?
Jeep Wrangler doors are removable for many reasons. Going off the unbeaten path keeps things interesting when you're able to drive without your Jeep doors because it immerses the driver in the full outdoor experience.
Not only does it make for a better experience when you take off Wrangler doors, but it also improves you fuel efficiency.  Losing the extra weight from the doors can help with the fuel economy and add that element of a rush when going down a trail.
Let Stanley Chrysler Dodge Jeep Ram Brownwood Help Take the Doors Off Your Jeep
If you want help taking the doors off your Jeep Wrangler, the service experts at Stanley Chrysler Dodge Jeep Ram Brownwood can help. Whatever adventure you're seeking, we're standing by to get you out on the open roads. Schedule an appointment today and our technicians can have the doors off your Wrangler in no time.
More From Stanley Chrysler Dodge Jeep Ram Brownwood